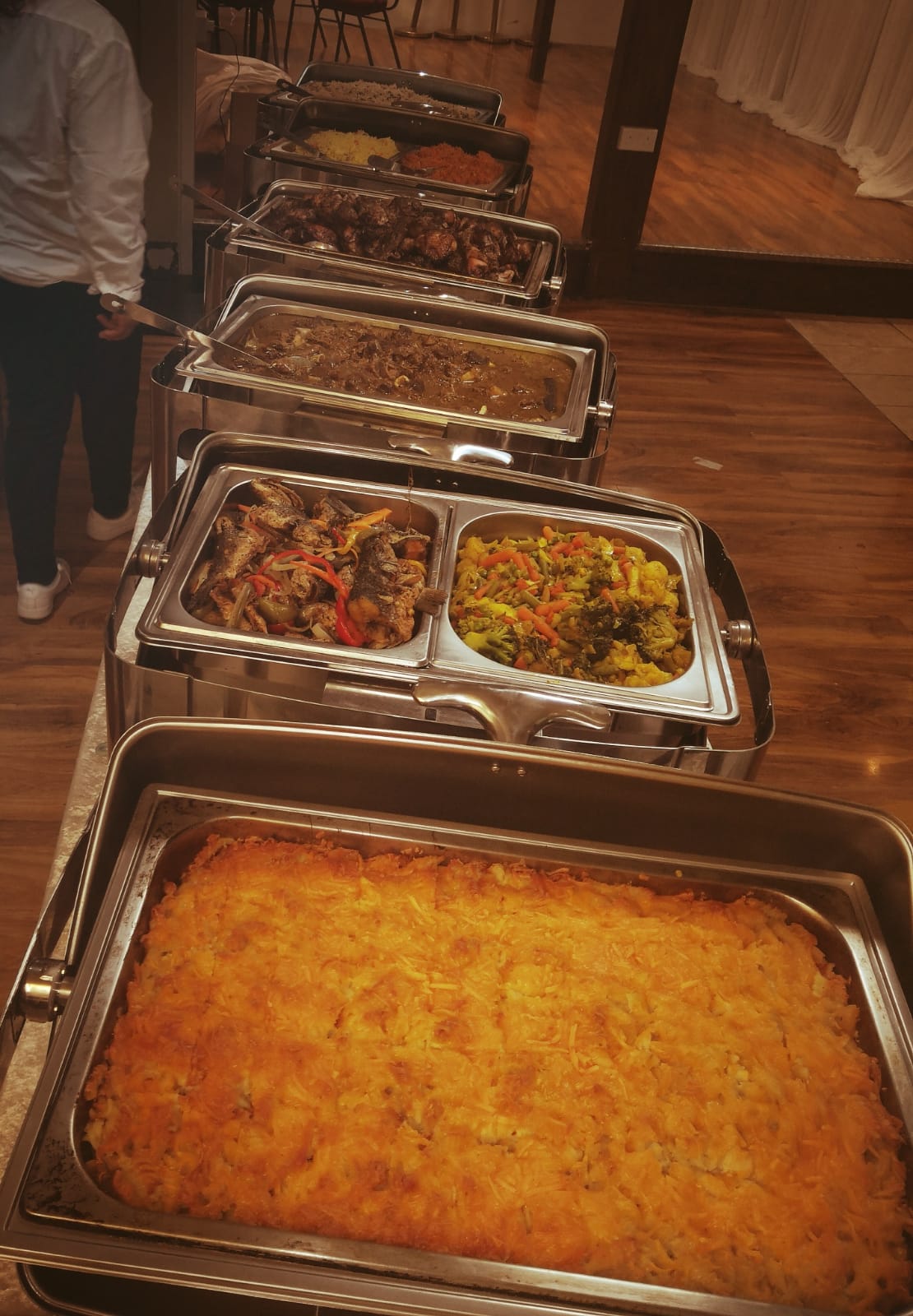 Experience Expert Catering!
Right Choice Caterers specialise in exquisite carribbean food for weddings, corporate, christening, funerals, birthdays and galas. With over 40 years of experience we cater to parties of 2 to 1000 guests. Our fusion of options of Caribbean, African and Asian cuisine draws on a lifetime of skills and the knowledge of our chefs. All meals, no matter how large or how small, are special and are prepared and catered to perfection by our highly skilled staff.
We Specialize in Intimate
Catering
Think back to your last party. It was probably a great time
with amazing friends.
clayton powell
28/11/2022
I was told about Right choice caterers and I must say I was not disappointed. From the amazing polite staff to the remarkable food. It was such a joy to have them and I will highly recommend to all my friends.
Carolyn Francis
28/11/2022
Food was amazing from the first bite. Seasoning and presentation was also great. I've been able to try their food on multiple occasions and have never been let down.
Errol O'flaherty
24/11/2022
Absolutely amazing food, great quality, quantity and value for money. Would highly recommend you using these guys
Judie Rochester
24/11/2022
Right Choice Caterers were recommended via a very good friend for a very large Family Funeral. Dil was wonderful, responding quickly to my frequent email questions (I had many)! and any concerns we may have had, but he soon had us at ease with his attention to detail and knowledge. I was so confused about what to have on the menus, so I really appreciated his expertise and understanding to our wants and needs. From planning to execution, everything was consistently excellent. All our guests were totally 'WOWed' on how delicious the food was...they absolutely loved it! I can see that Dil runs a first class operation..from his courteous and helpful team, to his professional planning and execution, totally exceeded all my expectations. I would highly recommend Right Choice Caterers to ANYONE! (family & friends have used him since)!...Thank you so much Dil for your excellent service, amazing team, and all the delicious food!
For High quality Caribbean cuisine, Right Choice Caterers are the one. Delano and his team exude excellence in their professionalism, presentation and product. The flavours are exquisite, the attention to detail is outstanding and their service is exceptional. Well done Delano and team.
Kay Ann Anderson
18/11/2022
Best food I've ever tasted. Staff are really friendly. So glad I choose the Right Choice caterers
Linval Sinclair
17/11/2022
I'm alway happy to use Right Choice catering services as it reminds me of my grandmother cooking back in Jamaica the spices and the delicious flavours omg mouth watering.
Millie Bentham
19/10/2022
Right Choice we're recommended by a friend, we had already called 2 other caterers... So here we go, which of the 3 should we decide on to provide the food at mums funeral reception? From the start, Dillon was easy to talk to, understanding of the main goal for the day but above all there was something about him that gave me confidence that he would do a fab job! The food was amazing, he was amazing, his team were friendly & understanding - ready to accommodate our needs & wishes. I would definitely recommend Right Choice for your function, we are using them again for Christmas!! 🙂